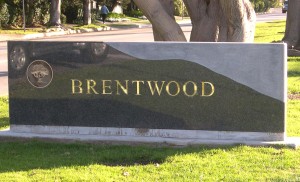 Brentwood is a find… a great place to live: Small town and understated with upscale labels and genuine stock. Look at per square block and one can indulge in the best of the best. Active lifestyles rejoice: Bike and jog where the last leg of the LA Marathon is run on San Vicente (Jockway). Tune up at hot Maha Yoga. Refresh at the tastiest, healthiest cold pressed juice bar around (closet size, literally), Press Juicery. Celebrate the art of coffee at Caffe Luxe.  Dine large at Toscana, Osteria Lantini, Vicenti Ristorante or the Tavern where you could be seated next to Al Michaels, Mo Ostin, Reese Witherspoon, or Candy Spelling and the 90210 Women. Feast al fresco at Pizzicotta, Sor Tino, or The Farm Shop where you could be seated next to Reese Witherspoon, Ron Howard or Larry David.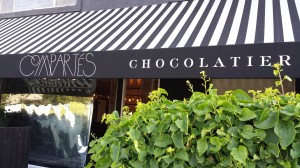 When in Brentwood do take note of three restaurant jewels all on Barrington and all producing exquisite food products in spaces not much larger than Candy Spelling's gift room (at the former 50,000+ sq. ft. Holmby Hills Spelling Manor). Wednesday, Thursday and Friday, October 9-11, Brentwood goes national on the Home Shopping Network with special offerings from its own Compartes Chocolatier.  The unassuming Barrington store front has been producing candy for generations and for decades. Now in the capable hands of the next generation, an up and coming young entrepreneur, Jonathan Grahm, this fine chocolatier is producing some of the freshest , richest and tastiest chocolate available anywhere, truffles, chocolate bars, chocolate covered nuts "Love Nuts" s, chocolate double dipped fruit and pretzels (My name is Michael and I am a chocolate pretzel addict)  and packaged inside and out to be absolutely irresistible to the eye and taste buds. Check out the HSN show and website, <a href="http://www.hsn Visit Website.com/" onclick="__gaTracker('send', 'event', 'outbound-article', 'http://www.hsn.com/', 'www.hsn.com');">www.hsn.com for some real Compartes chocolate deals:  My recommendation, the Hollywood Bar, high 71% cocoa dark chocolate simply with rock salt. www.compartes.com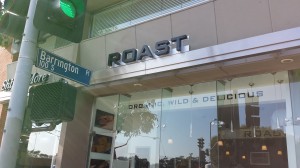 Then venture north up the street to the charming Brentwood Village and there you will find the most delicious roast meat sandwiches, roast vegetable sides, leafy salads and freshly made condiments at Roast Deli and Market. Quality and passion for food lives here and is underscored and overshadowed by its institutional neighbor, Lemonade.  While Lemonade serves tasty lemonade concoctions and broad eclectic menu choices, can it live up to the roasted Meyer Lemon Lemonade served at Roast. Organic, Wild and Delicious stop by and enjoy the food and talk to the passionate owner/chef Whitney Werner, former head chef at Santa Monica's well-heeled, The Beach Club.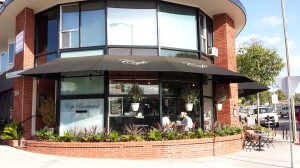 Last but not least, and just across the street from Roast is the Café Brentwood. The recently opened scaled down lunch spot annex to the venerable, Bruce Marder's, hip, dark dining spot, The Brentwood, is yet another understated pedigree that will change the face and fortunes of this previous snake-bitten Barrington corner restaurant location where many previous restaurant ventures have failed. Serving comfort food with a flair and freshness uniquely Bruce, this is the place where you will want to go again and again for your breakfast and lunchtime foodie fixes.