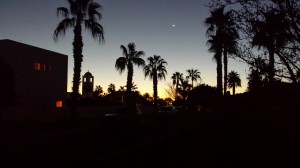 Letters to Loreto
Morning Loreto Bay: The Evolution of a Community
Spectacular shadowed crescent at sunrise looking towards the bell tower of the soon to be hotel centerpiece of the Loreto Baja Golf Resort Spa, once and formerly the jewel, low-key, quaint Loreto Bay Inn. As I watch this day unravel, the realization of a community has at last come. A bold development concept started in early 2000, Loreto Bay will soon realize its highest and best use; an amalgamation of a restless dream, and now a recent hotel and land acquisition of one of the world's richest men, Mexican multi-billionaire, Carlos Slim.
Many have endured. Some failed miserably. Today it is an oasis. Natural water aquifers are overflowing, and swelling desert land, and turning them green, and people are returning, "treading lightly" back to this world class fishing resort, culturally enriched traditions of the once capital and economic and religious centers of the Californias (when the Spaniards controlled the Pacific coast and north to the Oregon border up until the mid-1800's).
Loreto Bay was Baja California's "first" sustainable resort Read More Here. A thumb-nail mandate of "sustainability" is to be environmentally balance (fit into the environment and enhance it in size and design) ecologically balanced (eco-friendly) and socially balanced (improve and support the surrounding community and native people). With these lofty goals a land purchase of over 8,000 acres was transacted with 3,000 devoted to development which included almost a mile of coveted beach front. Lots were drawn and sales of 500 homes were completed by 2005. Construction began on a modern day interpretation of adobe built homes in an old-world style community of tightly knit of houses, casitas and condos centered around plaza style courtyards and walking streets (no cars and few garages) and verdant estuaries and marina for sailing. A new international airport was completed and the promise was on its way to being fulfilled.
Then 2007 happened and world fortunes changed; this part of the globe, this country, this Baja area, this Loreto town (from where the developers and builders had just completed my casita style attached home) and this homeowner, changed as well. I would become a participant on a battlefield of crushed economies, teetering financial institutions, construction debacles, social upheaval, demoralizing press and misunderstood drug wars. Our new home and priceless Loreto Bay development became a war zone; fenced-up, dug-up and messed-up. My wife and I, however, were the lucky ones.
As I write this letter today, Loreto Bay and its adjacent township, known as Nopolo, are poised for sensible expansion with new highway construction, operational airport and increasing flights, emergency treatment center/hospital (partially funded by the original Loreto Bay development's sustainability commitment), and new homes being finished and people moving-in. A vibrant community is taking shape and in motion with colorful sidewalks and street landscaping of natural stone and indigenous plants, cactus and flowers,  wonderful restaurants and coffee houses among them, the Wine Bar (Wil and Cynthia's place) and El Corazon (serving bold, full bodied coffee roasted in Vera Cruz principally), a community center, property management and construction companies, Vive Loreto, sport rentals, (and I must mention George at the beach shack renting kayaks and other water sport equipment next to the hotel) Loreto's most prestigious furniture showroom, Del Sol, run by the talented owner and designer, Gustavo, and a Saturday street scene of vendors on the Loreto Paseo and in-town on Sunday a local flea market…. and coming soon a "5 Star" Ostar's newest Luxury Hotel property, Loreto Baja Golf Resort & Spa. When in Loreto, however, don't miss the opportunities to mix in the older, established stops along with the new offerings in Loreto Bay and in town.
Welcome Carlos Slim, there is a wonderful opportunity ahead.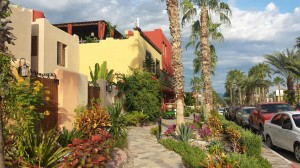 Letters to Loerto is a first in a series of entries about Loreto Bay. If anyone is interested in more information on hotels, housing, places to tour, eateries, shopping or sport, please connect or comment.