<a href="https://www.michaelhiatthomes.com/wp-content/uploads/2013/10/wf_curve_ball_lg This Site.jpg">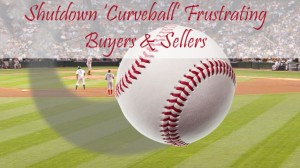 The crystal ball is perpetually difficult to read, however, the federal government "Shutdown Curveball" is having an impact on sales and consumer confidence clearly. Westside real estate is less affected and well-priced, in sought after locations are still generating significant multiple offers. Consumer interest in real estate remains high but some loans, mostly FHA loans are running into funding difficulties for Buyers. Current Westside home buyers and investors have the assets and documented incomes to still close loans with banks within the conventional 17 day approvals and 30 day funding for escrows.
The real real estate policy issue to monitor with regards to Westside, Southern California and national market home sales and values is the debt ceiling. That's the government policy "kniuckleball" that could affect the short term and long term values and unit sales significantly. Most economists and financial professionals agree current policy and raising the debt ceiling is good for real estate,  good for America, and a case could be made, good for the global markets.