One of the best ways to celebrate Valentine's Day is with a dog. Cuddle a puppy who will love you unconditionally, never let you down, and always give you lots of kisses. Unlike your last ex, you'll never kick him/her out the door. A dog will never disappoint you! Following are suggestions on how to spend a lovely time in Los Angeles with your favorite furry significant other:
1. Re-watch Lady and the Tramp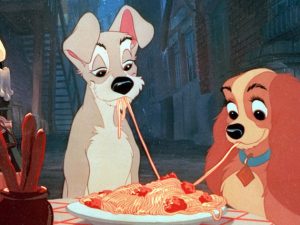 February 13-15, 2019 7 pm
El Capitan Theatre Hollywood
Tickets $10
Call 1.800. DISNEY6 to book
2.  Bark and Rock Out to Live Music in Grand Park, Downtown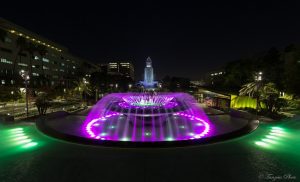 3. Grand Park Lovers Rock
Featuring DUB CLUB
February 14, 2019
6-11 PM
Grand Park Olive Court (between Grand and Hill)
Free
All Ages and Breeds Welcome
Groove to the soulful vibes of Lovers Rock reggae with LA's top ranking reggae selectors of DUB CLUB! Bring your own special picnic dinner or enjoy the food trucks.
Click Here for More Information
4.  Find Momo Pup-Up Gallery Launch Pawty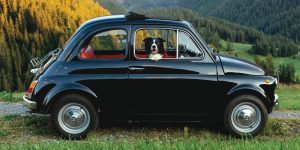 February 19, 2019 6:30 PM to 8:30 PM
Healthy Spot 6320 Topanga Canyon Blvd., #1635, Los Angeles, CA 91367
Andrew Knapp's photos from his latest book. which features his travel Momo travel across the world with his dog Momo.  Admission is free. Click Here for More Information
5.  Eat at a Dog Friendly Restaurant:

Don't leave Fido home when it's time for dinner. A dog's gotta eat too! And no matter where you're headed, there are so manyn great sidewalk cafes, brew pubs, coffee shops, or other eateries that will welcome your pup to join you at an outdoor table. Bone appetit!
Best Dog Friendly Restaurants in LA
6.  Meet Up with Herky the Cavalier at Cavology Pup Up!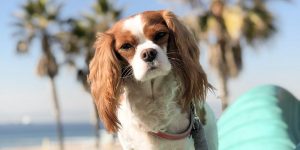 CAVOLOGY is an accessories brand designed by dog lovers for dog lovers. Inspired by their two Cavaliers, the brand focuses on providing high quality, stylish accessories that caters to active lifestyles of dog parents. Click Here For More Information
7.  Get a "Bow Wow Workout" In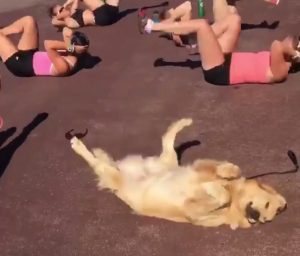 $15.00
Monday, Wednesday & Friday 6:00 pm 
Runyon Canyon (Fuller entrance)
Spend time with your pooch while losing yours!
Click Here For More Information
8.  Pamper your Best Friend at a Doggie Spa: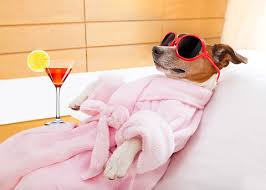 You know there is nothing better than a massage, facial, mani/pedi or body treatment.  Doesn't your precious pet deserve the same?
Click Here for LA Pet Pampering
9.  Walk Your Dog On (Oops, I mean Near) The Beach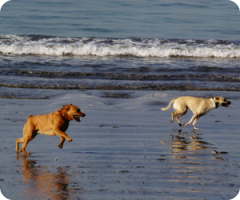 If you are doggone determined to walk your dog on the beach, check out Rosie's Dog Beach in Long Beach, one of the only dog friendly beaches in the LA area.  A great alternative is Palisades Park in Santa Monica.
Click Here for More Information